Looking for skills training that you can start immediately?  Here you will find our self-study programs, e-books and other offerings that you can start at any time.
---
Ace Your Potential Client Calls E-Book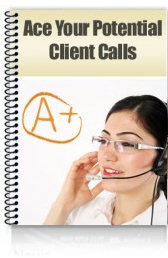 Are you a virtual assistant who struggles with closing the sale?
Are you a new virtual assistant who is nervous about potential client calls and therefore fumbles through them?
Are you a seasoned pro who just needs some fine tuning to perfect your pitch?
Regardless of the stage you are at in your business, how you handle your potential client calls will make or break your success. Knowing how to ace your potential client calls will mean higher conversions and more clients filling your pipeline!
Virtual assistants have to wear many hats. In fact, all entrepreneurs do. When we start businesses, we forget that we also have to play the role of marketer, bookkeeper, salesperson, receptionist, etc. For many people, playing these roles can be really difficult. Sometimes selling doesn't come naturally and marketing seems to be a chore rather than something we want to do.
Ace Your Potential Client Calls – A Complete Guide to Client Call Success was created to guide you through the process of a successful client call. This guide is NOT going to teach you how to sell because the truth is – you don't have to know how to sell to have successful client calls. In fact, we recommend that you avoid using sales techniques and tactics on your potential client calls! Yes, seriously!
How Will This Guide Help Me Close More Calls?
If you struggle, even a tiny bit, with your potential client calls, this guide is going to help you immensely!  This guide will teach you:
How to setup the intake process both from the preparation and technical aspects
3 things to do BEFORE the potential client call to weed out the curious-but-not-serious
10 things to cover in every single potential client call to ensure your client's secret objections are soothed away
How to start the call so that you get them talking first and about the things that will help you the most later in the call
How to keep your potential client focused and on topic
How to deal with objections that may come up during the call
How to develop confidence and take control of the call
and so much more…
You're also going to receive:
Scripts to help you walk through the call easily and in a style that keeps you and the potential client at ease
Essentially, we want to ensure that you can take this product, consume it and see the results in your potential client calls immediately! We have covered every aspect of the call – from the technical to the mental – and we know that you will see an increase in the number of clients you close on a regular basis.
Cost: $27 | Format: E-Book / PDF Download
Click Here to Purchase This E-Book
---
Audio Acrobat for Virtual Assistants
Trainer: Erin Blaskie
If your client is in the business of doing teleseminars, videos or podcasts, you will need to know Audio Acrobat in order to not only support them with it but also to recommend that they use a tool that will streamline their operation.  Audio Acrobat is an amazing tool that will organize your client's recordings, allow them to syndicate a podcast easily and allow them to host and display videos on a custom, branded player.  There is also a fabulous affiliate program that you can sign up for to use when referring the service to your clients!  We have earned well over $2,000 since we began referring this tool to our clients.  In this program, you will learn how to:
Set up a bridge line (teleseminar) recording
Produce a download or listen-only audio link
Upload and use the video player
Create and syndicate a podcast
And more
This program will take place over two days and each class will be one hour in length.  Handouts with how-to screenshots will be provided.  Due to the size of the videos that are produced when recording a live webinar, this program will not be recorded so being able to make the live class is key - otherwise, you will be reliant on the screenshot tutorials provided with the program.  Even if you can not attend live, you will still receive the handouts.
Cost: $97 | On-Demand Training, Take at Your Convenience
Click Here to Purchase This Training
---
Build Your Own Website - Virtual Training Program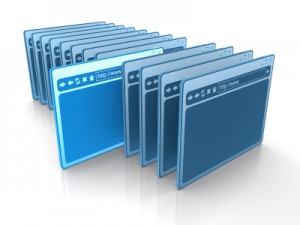 If you are struggling to get your business website off the ground due to lack of funds or the fear of relinquishing control to someone else, the Build Your Own Business Website program (formerly known as Blog Design Bootcamp) might just be the solution to that problem.
A lot of businesses are going online these days as they realize that the Yellow Pages are a dying media. Consumers are no longer using offline methods to find the services and products that fit their needs — they are going online and doing business with those that have a web presence built.
Now, if you're one of these businesses, you might be struggling with coming up with the capital to build a website or update and manage your existing one. Believe me, we've seen it before — a business wants to go online, doesn't have the capital, they wait forever and next thing you know, they've missed out on a huge opportunity.
So, what if I were to teach you how to build your own website, get it on a successful platform and manage and maintain it for as long as you own it? What if I also told you that the platform I am going to teach you is FREE with your hosting (the stuff you pay for regardless of what kind of website you own)?
The Build Your Own Business Website program is going to teach you EXACTLY how to get your website up and running on WordPress — one of the most popular and powerful systems out there right now.
The BYOW program is a virtual-based program, which can be done from your home or office at any time of your choice. You'll have instant access to the material whenever you need it, for as long as you need it. During each video, you'll be able to watch my screen as I take you through everything you need to know to set up and maintain your website.
The Build Your Own Business Website is going to teach you how to:
Install WordPress, a powerful blogging / website platform, on your hosting account
Install a theme using WordPress
Understand how to choose a theme (and the differences in paid/free themes)
Install plug-ins to add extra functionality to your site (social media integration, forms, etc.)
Customize the theme to suit your branding and logo
Add content to your WordPress site, including pages and posts
Install and configure Google Analytics for site tracking
Install and configure your opt-in box for list building
The Goal of this Program is to Help You:
Be able to set up your own business website from scratch
To not have to rely on someone else to update and maintain your website
To learn a valuable skill for your service-based business (should you choose to do this as a service)
Be able to launch micro-sites and sales pages when you need them for FREE
and so much more…
Given the skill set that you will possess after this program, you will save yourself a TON of money in your bottom line.
Cost: $147 | Start Date: Anytime | Class Time: At Your Leisure
Click Here to Purchase This Program
---
Infusionsoft Training - Self-Study Guide from Amber Miller & The Online Business Academy
More and more business owners are looking for OBMs and VAs who can provide ongoing Infusionsoft support. These clients either want to "make the switch" from another system, or they've already done so and desperately need someone to manage (and leverage!) this amazing software for their business. We've seen what Infusionsoft can do for businesses and we're convinced: support professionals with Infusionsoft training will be positioned to stand out in almost any niche (admin, marketing, operations, etc.). Infusionsoft training will enable you to offer MAXIMUM VALUE (for a maximum price) to clients wanting to leverage those hard-earned customers and prospects!
Without a doubt, Infusionsoft is changing the way businesses operate and market their business online. Forever.
This Infusionsoft Training is a recorded Webinar Training Program (delivered online.)
The program consists of 8 hour-long sessions. Tina Forsyth, together with OBM Academy Faculty Trainer Amber Miller, lead the training.
Remember, your Infusionsoft training includes: easy to follow checklists for each session, so you can quickly start to apply your new skills, an interactive forum where you can post questions and network with your trainers and peers, and video recordings of each session, for future reference in case you miss a session or want to review the training content.