Whatever Your Project, We've Got You Covered
Being a Solopreneur Doesn't Mean Doing Business Alone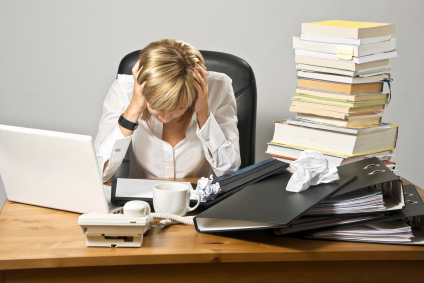 Are you struggling to keep your head above water every single day?
Do you wake up and think to yourself, "If only I had HELP!"
We've been right where you are and we know how you feel.
Overwhelmed, overworked, underpaid and frustrated. It is not a great place to be in your business but it happens to the best of us. Regardless of how organized we are, how motivated we might be or how determined we are to succeed, sometimes we just need a little bit of help. A little bit of solid support.
We help entrepreneurs, just like you, take their projects from conception to reality. We help them organize their businesses in ways that make sense and make money. We work with online entrepreneurs who are determined to succeed and will stop at nothing to make that happen.
We are a full-service, one-stop shop for your outsourcing needs. Whether you need a virtual assistant, a copywriter, a graphic designer or an administrative assistant, we have it all for you here in a flexible environment with a stellar team of people.
We help entrepreneurs alleviate their to-do lists, systemize their business processes and create more free time in their daily lives. We support our clients with everything from Internet marketing to social media to web / blog design to graphic design. We have set up our company to be a one-stop shop for online entrepreneurs who need support.
Typical Projects We Support
Creation of new websites or the maintenance of existing sites

Copywriting for sales pages, blog posts, articles and more

Setting up sales pages, opt-in pages, telesummit pages and more

Set up of membership software, e-commerce platforms and list building tools

Creation of information products like e-books, audio programs and e-courses

Video and audio editing as well as transcription of media

and so much more…
One example of a project we do often is a custom built WordPress site.
The video above will take you through some of our custom built WordPress sites. You can find more portfolio items here.
What We Do & What We Know
Our List of Services & Tools We Support is Always Staying on the Leading Edge of What's Hot
Tools We Support
List Building / E-mail Marketing: InfusionSoft, 1ShoppingCart, Aweber, Constant Contact, GetResponse, MailChimp and more...

E-Commerce / Affiliate Marketing: 1ShoppingCart, PayPal Merchant Tools, Shopify, WP E-Commerce, Authorize.net, Practice Pay Solutions, InfusionSoft, SHOPP, Zferral, Clickbank, Fetch and more...

Social Media Tools: Facebook, Twitter, LinkedIn, Ning, Squidoo, Foursquare, Digg, Stumble Upon, Delicious, Hootsuite and more...

Website Design & Maintenance: WordPress, GoDaddy's Website Tonight, cPanel-based website builders, Dreamweaver, FrontPage, Adobe Catalyst, SquareSpace, countless premium WordPress themes and more...

Website Add-Ons & Integrations: WishList Membership Plug-In, Moodle, Vanilla Forums, phpBB Forums, Nanacast, Kajabi, Pop Up Domination and more...

Blogging Platforms: WordPress, TypePad, Blogger and more...

Other Business Tools: Audio Acrobat, YouSendIt, Web Collaboration, Freshbooks, Basecamp, Dropbox, Google AdWords, Google AdSense, Submit Your Article, Kayako Help Desk and more...
If you don't see a service on this list that you need supported, send us an e-mail! There is a 90% chance that we support it. If we don't, we'll figure it out on our own time so that we can provide you with support for the service you are using!
Some of the Services We Offer
Internet Marketing: ezine/newsletter creation and management, virtual event set up and execution (teleseminars, teleclasses, webinars, group coaching programs, etc.), information product set up and marketing (e-books, audio programs, e-courses, etc.), sales page / squeeze page / opt-in page set up and execution, Amazon book launches, set up of autoresponders and more...

Online Presence Management: affiliate program set up and management, e-commerce account set up and maintenance, online business management, project management, audio and video editing, and more...

Blogging & Website Management / Maintenance: blog post creation and scheduling, website set up and maintenance, blog set up and maintenance, online learning environment set up, membership site set up, e-commerce and list building integration and more...

Social Media Support: Facebook fan page creation and maintenance, Twitter background creation and account maintenance, writing and scheduling updates across social media sites, growing your following across social media sites, tracking the growth and response across social media sites and more...

Writing Services: copywriting for sales pages, blog post ghostwriting, article ghostwriting, copyediting, press release creation, social media updates (Tweets and Facebook status updates), proofreading / editing and more...

Graphic Design Services: e-book covers, banner ads, website headers, logos, Twitter backgrounds, custom Facebook fan pages, web graphics, YouTube backgrounds and more...
From Our Portfolio: Custom Facebook Pages, Twitter Backgrounds and YouTube Backgrounds
From Our Portfolio: Custom Landing Pages for Teleseminars, Telesummits and Online Events
Download Our Free, 60+ Page Delegation Workbook
We Want to Make Delegating Easy! Download Our Free Workbook & Get Started Today
As experts on the subject of delegation and outsourcing, we have compiled a series of easy-to-digest tips into one guidebook to bring you the Delegation Workbook: Your Complete Guide to Working with a Virtual Assistant.
Inside of the Delegation Workbook, you'll learn:
Why Does Someone Need to Delegate Tasks?
What are Some of the Tasks that I Can Delegate?
Who Should I Delegate These Things To?
101 Things to Delegate to a Virtual Assistant
What is a Virtual Assistant?
What Should I Expect from My Virtual Assistant?
Working Out the Cost to Delegate Items
Plus you'll learn how to take action outsourcing including:
Setting Goals
Identifying Skills Needed
Identifying Timelines
Communicating to Your Team Member
Tracking the Project
We also cover 30 different delegation ideas and provide tips and tricks on how to delegate the task effectively (educating you about the tasks along the way)!
Download your free copy by filling out the form to the right!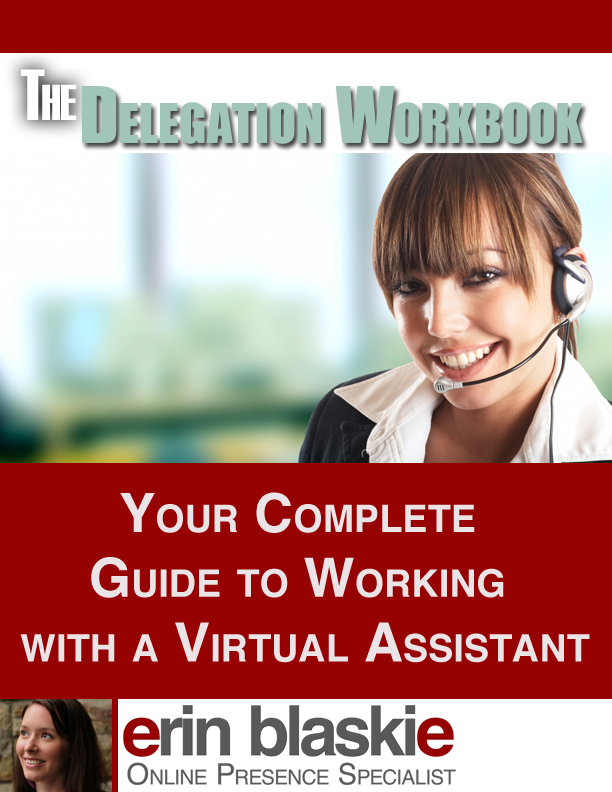 Entrepreneurs Everywhere Have Discovered Why It's Smarter to Delegate Instead of Trying to Do It All Alone...
Read What Some of Our Clients Had to Say

Kristen Lauter
"Erin's virtual team is amazing. They are always striving to make every effort to bring so much more to the plate than other companies. The logo I had done was finished within a half hour, and looked sharp! The social networking was a snap, they even helped me write some of my tweets. Erin is an incredible energetic, intelligent and remarkable business woman. Always on top of things and helping us all reach the heights we are aiming to reach."

Bo Cordle
"A few weeks after launching my blog, I knew it was time to get my email newsletter going. I was on a tight budget, but knew I didn't want to use a standard template. So I asked my project manager if she thought they'd be able to do it. They were. Erin's team knew exactly what questions to ask & nailed the design on her first attempt. It's exactly what I'd hoped for… can't wait for the next project!"

Seth Marlowe
"Erin, over the last year I've tried and failed three times to deliver a vision. In addition to the $$ I've spent, I don't want to count the hours invested over these last twelve months as I struggled to deliver on the vision. Then, after days of searching online as I rallied myself for one last attempt, I found you. And now, finally, the vision is becoming reality. Your team is fantastic. I sincerely appreciate everything she's doing to work with me and I couldn't be more excited to re-launch the website tomorrow. Thank you for the company you've built, the leadership you offer and your taste in the people you select to work for you."

Jodi Hume
"Wow!!! I haven't even had a chance to finish up revamping the copy and I already received TWO submissions for strategy sessions from the new site and BOTH found me from google searches!! That NEVER ever ever happened to me before. People would sometimes submit for sessions, but they'd always found me some other "warmer" way…. (networking, article, media mention, etc…)"

Ali Rodriguez
"It was Summer 2008 when Erin Blaskie first came into my life through a little Social Media thing called Facebook. She had a campaign going about getting "re-instated" because they thought she was not the real Erin Blaskie!
Without even knowing her, I fell in love with the authenticity of her campaign and her innovative videos showing the big wigs at Facebook that she was who she said she was. It was love at First Facebook Sight. I quickly understood Erin's passion for helping business owners claim their place in the internet marketing world and so our professional relationship started.
Erin's love and passion for internet marketing shows in everything she does, and her resilient conquest for futuristic ideas beyond what's possible, it's absolutely amazing. "Erin can make chocolate out of lemons." – Her deep desire to help clients achieve goals beyond what appears probable is monumental, and her vast global knowledge of what's next in the internet marketing world is something to be cherished and respected by those who know and love her.
Erin and her virtual team has been helping me grow since 2008 to include the re-vamping and re-branding of my website, and full support from design to search engine optimization to social media multi-tasking and the list continues to grow.
Want to put a passionate and profitable internet marketing spin into your business life? Have Erin Blaskie by your side!"
How the Service Works
Working with a Virtual Team Shouldn't Cause You Extra Work, It Should Simplify Things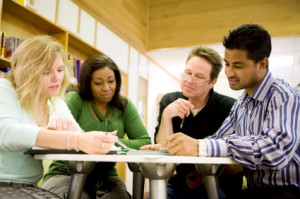 Before you review the pricing, it's important for you to know how the service works to fully understand what value you receive for your investment.
When you engage with our virtual team, you will be assigned one primary person to work with you based on your needs. For example: if you need support with your virtual events, you will work with someone on our team who has that expertise. If and when another need arises, a copywriter or graphic designer for example, another person on our team with the required speciality will join your project to offer services in that area. However, on a regular, on-going basis, you will work with the same person.
At the same time, you will also be working closely with me, Erin. I will be ensuring that your project is organized from the beginning and that the outcomes are laid out. Throughout your work with us, I will also help you with the higher level strategy for your business, I will brainstorm new product/service ideas with you and I will ensure that the team is doing what they should be doing.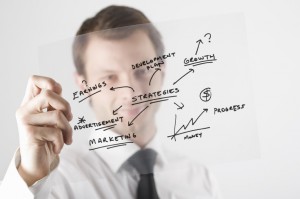 While the team is implementing and executing and I am strategizing and planning, we also have one other layer in our business - the project manager. To ensure that deadlines are met, messages aren't missed and to-dos are documented appropriately, you'll also have a project manager on your account whose sole responsibility is to make sure that your business activities are on track.
Since there are multiple people working on your account, we have one central time tracking tool. Each person who works on your project bills their time, to the minute, for the work that they are doing on your project. That means that you are only paying for the exact time that is spent on your project - no breaks, no training time and definitely no other distractions. All time is accumulated onto your account and is billed at the same rate - regardless of the service.
Every two weeks, on the 15th and last day of the month, you'll receive a time report from us with an update as to where you are at with hours. If you are over, you will be billed for the surplus. If you are under, the time will be moved to the next time period to be used then. As the packages we have are an auto-billed package, we will review, quarterly, how much time is being used each month to see if any adjustments to your pre-paid amount need to be made. However, you can also adjust them yourself at any time.
The Cost of a Virtual Team
We Bill to the Minute, Which Means You Only Pay for Actual Time Worked!
Starter Package
5 Hours per Month
Use for Any Service
Free 30-Minute Setup Call
$240
Intermediate Package
10 Hours per Month
Use for Any Service
Free 30-Minute Setup Call
One-Hour Strategy Session Free ($150 Value)
$460
Robust Package
20 Hours per Month
Use for Any Service
Free 30-Minute Setup Call
One-Hour Strategy Session Per Month Free ($150 Value per Month)
$880
Need More Info Before You Jump In?
Schedule a Free, 30-Minute Consultation with Erin Blaskie Today!
Not sure if a virtual team is what you need for your business? Schedule a free, no-obligation 30-minute consult with Erin today. You will get the opportunity to ask questions, explore the service and have a specific quote drawn up, if required.
About Erin Blaskie & Team
Learn the History of the Company & Meet Our Founder
Erin Blaskie founded the company in 2004. Formerly known as BSETC (an acronym for Business Services, ETC), the company is now under the Erin Blaskie brand.
Our Story
BSETC was conceived well before its actual inception date. At the age of 6 years old, Erin Blaskie (CEO and founder of BSETC) could be found playing "office" with her sister, using the family's Commodore 64 as her office hub. Erin was always the boss and her sister would be subjected to doing countless of hours of mindless paperwork.
When Erin was sixteen years old, she had a vision of working independently for businesses in her local town performing administrative tasks like formatting documents. It seemed like a perfect potential summer job until she was offered a job in the local ice cream store. At 16, ice cream trumped office work.
With two attempts at creating an office environment in her belt of experience, Erin headed to college and studied Business Administration as well as Advertising and Public Relations. Once Erin was finished her program, she was hired by a private college in Ottawa, Ontario, Canada to teach their business admin program.
During the program, she was constantly faced with the topic of business administration and helped numerous students start the job search process after they were finished their program. While doing so, she realized that there had to be a way for her students to help people independently as well — without waiting to be hired.
After an Internet search revealed the concept of the "virtual assistant", Erin herself fell in love. It was precisely the same idea that she had when she was 16 but this concept was much more current and leveraged the power of the Internet. Two weeks and a website later, Erin had her first paying client and was figuring out ways to find more.
Six months after opening BSETC's virtual doors, Erin had enough clients to quit her full-time teaching gig and was able to jump into entrepreneurship full-time. The business grew very quickly and attracted clients across Canada, the US and other parts of the world. As the business grew, Erin consistently found ways to mould the company into providing exactly what her clients needed, when they needed it.
Seven years (and counting!) later, BSETC now provides virtual services to companies across the globe. Having serviced over 300 entrepreneurs world-wide, the 20+ person team has been able to understand how online business works and why entrepreneurship is such an awesome spirit to support.
Meet Erin Blaskie, Founder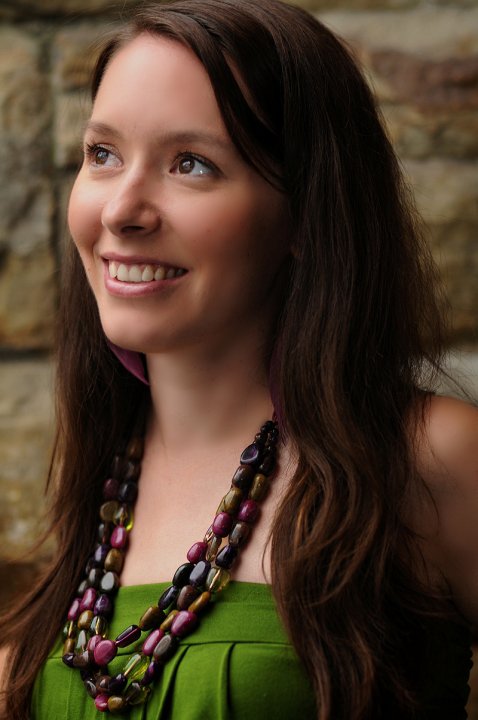 Erin Blaskie, also known as the Bizinatrix, is in a hot, passionate love affair with the Internet. Whether she is leading her team of creative, outsourcing professionals or sharing information via the web, Erin brings to the table her enormous passion for tech, geek and the Internet.
Erin is the brainpower behind BSETC, a creative, professional outsourcing firm, which supports entrepreneurs from around the globe with their Internet marketing and social media endeavours. Erin also recently launched Entrepreneur DIY which provides do-it-yourself tutorials for business owners on a wide range of topics. Lastly, Erin provides on-going coaching, support and mentorship to other virtual assistants via The VA Coach.
Erin has been an online video host for Butterscotch.tv and Tucows as well as co-hosting the Macgasm video podcast; has been involved in large-scale social media activations with Ogilvy & Mather; and has serviced high profile clients such as Travelocity, Crystal Light, Tassimo, Shredded Wheat, Dove and Magnum Ice Cream. Erin was turned into a video game character in the iPhone / iPad game "Bar Star." She also provides guest blog posts for Lawyerist, the Young Entrepreneur Council and Microsoft's Business on Main site.
Erin is also the reason that Basecamp now has a pop-up calendar on their milestones section, she influenced the lifestream movement amongst the blogging community and she helps companies spread the word about her favorite toys and tools across the online medium.
Erin has also been featured in five print books; received two business awards at the 2010 Bootstrap Awards; honoured as Office Arrow's 2008 Runner-Up Business Woman of the Year; has been interviewed by countless gurus and media personalities; is featured in major magazines and news outlets such as the Wall Street Journal, Mashable, Inc.com, Chatelaine, Costco Connection, ABC and CBC; and has been asked to speak at both national and international events including WordCamps in New York City, Chicago, Montreal and Toronto.