Strategy & Planning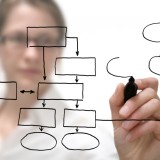 When new companies reach out to us and ask us how we can help them, we always ask one simple question first: "Where do you want to take your business this year?"  More often than you might believe, that response is, "I don't know."  Sometimes, a business owner has some idea but they have never really formulated it to the point of understanding exactly what they want to do and where they want to go.
We liken this to jumping in your car without a road map or any idea of where you even want to go.  Chances are you will do one of two things, in this scenario.  One: you might sit in your car for awhile, turn on the radio and rock out, but you will turn that car off a few hours later and go back inside your house.  In this scenario, you may have had some fun but you did not uncover anything new or reach a destination.  You stayed exactly where you were.  Two: you might drive around a bit and discover some interesting places but eventually, you will get bored and you will drive back home.  In this scenario, you may have unearthed new territory but it didn't change your end state.
If you are the type of business owner who flounders around without really knowing what to do with your business or you are the type of entrepreneur who tries a lot of new things and embraces new ideas but doesn't seem to really get ahead, we want to give you an opportunity to lift the fog and get your hands on a roadmap.  This way, you'll know exactly where you are going and how you're going to get there.
Before you take another step forward in your business or before you see another month pass you by, let us help you:
Create a workable plan that is personalized to your business
Uncover the tactics for your business that work for you and your personality type
Gain clarity on long-term goals so that the short-term goals are more easily attained
Lay out a step-by-step action plan for each month and each quarter of your business
Remove the need for knee-jerk reactions in your business by being prepared and organized
Create worksheets and process documents to pass to your virtual or in-house team
Look at your business critically and figure out what to keep and what to let go
Uncover hidden opportunities and potential new income-generators
If you are a reactive entrepreneur who takes action when new things come up and it's causing you a lot of stress, creating a strategy and a plan for your business will prevent this.  You'll be able to say "yes" to the things you want to do and "no" to the things that just don't make sense for your business and your long-term vision.  If you are able to only do the things you absolutely love to do, I can assure you that your business will grow much more quickly because your happiness and passion will drive it forward.
So, how do we help you with strategy and planning?  There are a few ways that this is accomplished.
---
Custom Online Business Plan
This 30-50 page guide, completely customized to your business and your goals, will help you piece together exactly what to do, step-by-step.
The beauty of being a strategist and an implementer / executor is that I see both sides of the fence. I can see what you need to do and I can tell you how to do it / how to get there. Given this unique perspective and this unique experience that I have, I have funnelled it into the process of creating custom online business plans for solopreneurs and small businesses.
If you are the type of entrepreneur who needs a blueprint and some hand-holding and want it all at once, rather than over the course of a few sessions, this blueprint will give you just that.
Through the course of an initial 30-minute call, I gather some preliminary information which I use to build your online business plan. Then, over the next 2-4 business days, I compile a marketing and online business strategy plan that works for YOU and YOUR business. This isn't a cookie cutter document that I just slap your name onto, this is a fully customized working blueprint that is infused with your business' current state and its goals.  We'll then meet back on the phone for a 60-minute call to debrief the plan and so that I can answer your questions.
Given the timeframe that it takes to create each plan, you will need to contact us to see if we have availability to take the creation of your plan on. This is a very popular service and we put a lot into each plan so you may be put on a wait list but I can assure you, this plan will save you SO much time and SO much money and will eliminate the overwhelm you are feeling right now.
Contact us today to see if we have availability for your plan.
---
One-on-One Strategy Session (1 Hour)
This is the perfect starting place for your strategy and planning endeavours.
If you are in need of working out the 50,000 foot view (aka 'the big picture'), this one-hour call will help you to gain clarity on where you are going and will allow you to get ideas and action steps to understand exactly how to reach your destination.  During this one-hour session, we can:
Create high level action steps for each month / quarter
Brainstorm the best use of your time this year / quarter
Discuss ways to get the most out of what you already have in place in your business
Look at the trouble spots or pain points in your existing business
Or whatever else might be a good use of our time together for you and your business
Alternatively, you might already be in a place where you know what you need to do but you just need some help to figure out how to do it.  Perhaps you just need clarification on the proper steps or new ideas to breathe life into your upcoming projects.  If this sounds more in alignment with where you are at, we can do a few different things during our one-hour session.  We can:
Brainstorm ways to put a fresh approach on an old idea
Create actionable steps for your virtual or in-house team
Discuss the best marketing tactics for your current project
Hash through the how-tos of a campaign, project or tool
Or whatever else you are currently feeling stuck on
One-hour sessions are $150 and can be booked up to three months in advance.  Sessions include a pre-session questionnaire to get a "current state of business" overview.
To book your one-hour strategy session, click here.
---
One-on-One Strategy Session (Virtual 1/2 Day)
For those of you who want a much more robust plan and would like to work as face-to-face as we can make it in a virtual environment.
We love working as intimately as possible with our clients.  Due to this, we've created the virtual half day option for those business owners who like the face-to-face approach but don't want to have to travel.  During these one-on-one strategy sessions with Erin, you'll connect via Skype video chat where you'll be able to see each other and interact as though you were in the same space.
The half day sessions allow us more time to really dig deep into your business and to lay out a strong strategy / plan for the year ahead.  These sessions afford us the opportunity to have much more time to talk big picture and take it down to a more microscopic level as well.
In the half day sessions you can expect to:
Complete a pre-session questionnaire to give us a current business state overview
Discuss current pain points and areas you'd like to see improvement
Discuss what is working and what you'd like to continue to do
Develop a clear picture of what your dream business would look like
Unearth the steps we need to take, each month, to reach the desired end state
Brainstorm projects, products and services to get you to where you want to be
Walk away with an actionable strategy plan to keep you on course
Virtual half day sessions are $600 and can be booked up to three months in advance.  Half day sessions are four hours in duration and include a pre-session questionnaire to get a "current state of business" overview.
To book your virtual half day session, click here.
---
One-on-One Strategy Session (In-Person Full Day)
If you are local to Ottawa or you would like to fly in to work on your business, we do in-person, full day strategy sessions.
Sometimes working virtually or over the phone just doesn't cut it.  If you are the type of person who thrives in an in-person environment where the doors are closed and it's just you, the strategist and your business, the in-person full day is probably the very thing you need to take your business forward.
During the in-person, full day session, we will dedicate a full eight hours to you and your business so that we can understand where you're at, where you want to be and how you're going to get there.  We will spend time discovering what you really love to do in your business (and what you don't) so that the plan we put in place for you and your business is in alignment with you as a person.
Along with everything discussed in the previous session outlines, we can also:
Help you connect the dots with your current content and material to create new opportunities
Connect you with the people and tools that you need to help your business run more smoothly
Take a hard look at your business to see where we can curb spending and save you dollars
Review your current team structure to see where efficiency can be improved
Discover ways to diversify your current revenue streams
Or whatever else you'd like to focus on for your business
To obtain rates and information on our in-person, full day sessions, please contact us.
---
*Coming Soon* Group Strategy Sessions
We will be introducing a group strategy session soon so stay tuned for details!