Books
From Creation to Customer: How to Successfully Market Your Information Products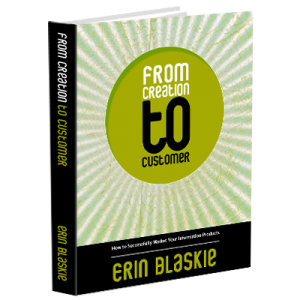 After we created and released Passive Revenue Powerhouse, one of the MOST ASKED questions we got was this: "Cool, I can now create all of these revenue streams for my business but how the HECK do I market them?!" Well, we listened and now we have the answer for you.
Our newest e-book: "From Creation to Customer: How to Successfully Market Your Information Products", is available now!
This e-book covers marketing for the following areas:
E-books
Audio Programs
E-courses
Group Coaching Programs
Self-Study Programs
Teleseminars
Telesummits
Webinars
and more…
This e-book will be THE definitive guide to marketing every type of information product that might cross your desk and be passed on to your customers. We'll discuss:
How to build a list with ease
The best ways to tap into your social network
How to set up and manage your affiliate program
The easiest ways to ensure a successful launch
and more…
Click here to purchase your copy today, just $47.
---
How to Become a Passive Revenue Powerhouse: The Online Entrepreneur's Guide to Creating Viable Revenue Streams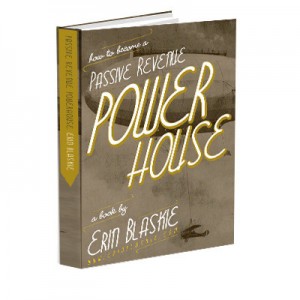 Since starting her business in 2004, Erin Blaskie has earned multiple six figures by using passive revenue and multiple streams of income. She has blogged about some of the ideas behind passive income before but has never compiled all of the information into one e-book until now.
"How to Become a Passive Revenue Powerhouse: The Online Entrepreneur's Guide to Creating Viable Revenue Streams" is chock full of tips and tactics on how to create multiple streams of income for your business. Whether you are a coach, an author, a speaker, an online retailer or a medical professional (or anything in between!), you will benefit from the wisdom shared within the pages of this e-book.
Topics covered in the e-book include:
Passive Revenue 101: What it is and how you can integrate it into your existing business or create a new business with it
Pre-Passive Revenue Prep: How to get your current site ready to market and fulfill passive revenue streams
Idea Generation: How to come up with ideas for your multiple streams of income
Information Products: How to create them, how to integrate them onto your site and how to sell them
Affiliate Marketing: Ways to earn passive revenue using pre-existing affiliate programs
Membership Programs: How these continuity programs change the game for many businesses
Service-Based Business Passive Revenue: How to earn some extra capital in your service-based business
Advertising: Incorporating online advertising to earn revenues
This e-book is singlehandedly the most comprehensive guide to earning money online (legitimately and authentically) that Erin has ever written and will change the way businesses earn their income. It will also encourage entrepreneurs to start setting up on-brand methods of earning money while they sleep (or vacation!) and allow them to stop the sole practice of trading time for money.
"If you own a business and you are interested in ways to increase revenue, reduce your workload, and diversify your revenue streams, then I would recommend you buy a copy of Passive Revenue Powerhouse so that you better understand your passive revenue options." - John Corcoran, CALawReport.com
Also included in this e-book:
Success stories from real entrepreneurs that use passive revenue in their business
Explanatory screenshots throughout the e-book
Links to applicable resources throughout so the guesswork is gone when setting up passive revenue
Purchasers of the e-book will also receive lifetime updates to the e-book
The e-book comes with a full, money-back guarantee so if you purchase the e-book and don't learn one thing from it, Erin will gladly refund your entire purchase, in full.
Click here to purchase your copy today, just $47.
This e-book is catalogued as ISBN 978-0-9813896-1-5. Length - 21,000+ words, 98 8.5×11 pages.
---
Ace Your Potential Client Calls - A Complete Guide to Client Call Success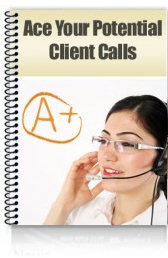 Are you a virtual assistant who struggles with closing the sale?
Are you a new virtual assistant who is nervous about potential client calls and therefore fumbles through them?
Are you a seasoned pro who just needs some fine tuning to perfect your pitch?
Regardless of the stage you are at in your business, how you handle your potential client calls will make or break your success. Knowing how to ace your potential client calls will mean higher conversions and more clients filling your pipeline!
Virtual assistants have to wear many hats. In fact, all entrepreneurs do. When we start businesses, we forget that we also have to play the role of marketer, bookkeeper, salesperson, receptionist, etc. For many people, playing these roles can be really difficult. Sometimes selling doesn't come naturally and marketing seems to be a chore rather than something we want to do.
Ace Your Potential Client Calls – A Complete Guide to Client Call Success was created to guide you through the process of a successful client call. This guide is NOT going to teach you how to sell because the truth is – you don't have to know how to sell to have successful client calls. In fact, we recommend that you avoid using sales techniques and tactics on your potential client calls! Yes, seriously!
How Will This Guide Help Me Close More Calls?
If you struggle, even a tiny bit, with your potential client calls, this guide is going to help you immensely!
This guide will teach you:
How to setup the intake process both from the preparation and technical aspects
3 things to do BEFORE the potential client call to weed out the curious-but-not-serious
10 things to cover in every single potential client call to ensure your client's secret objections are soothed away
How to start the call so that you get them talking first and about the things that will help you the most later in the call
How to keep your potential client focused and on topic
How to deal with objections that may come up during the call
How to develop confidence and take control of the call
and so much more…
You're also going to receive:
Scripts to help you walk through the call easily and in a style that keeps you and the potential client at ease
Essentially, we want to ensure that you can take this product, consume it and see the results in your potential client calls immediately! We have covered every aspect of the call – from the technical to the mental – and we know that you will see an increase in the number of clients you close on a regular basis.
Click here to purchase your copy today, just $27.
---