Download Your VA Giveaway Freebies Now!
You're confirmed!
Download your VA Giveaway freebies below.
Before you go…
Are you a virtual assistant who struggles with closing the sale?
Are you a new virtual assistant who is nervous about potential client calls and therefore fumbles through them?
Are you a seasoned pro who just needs some fine tuning to perfect your pitch?
Introducing the Ace Your Potential
Client Calls E-Book for VAs!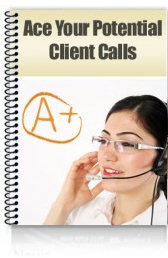 Regardless of the stage you are at in your business, how you handle your potential client calls will make or break your success. Knowing how to ace your potential client calls will mean higher conversions and more clients filling your pipeline!
Virtual assistants have to wear many hats. In fact, all entrepreneurs do. When we start businesses, we forget that we also have to play the role of marketer, bookkeeper, salesperson, receptionist, etc. For many people, playing these roles can be really difficult. Sometimes selling doesn't come naturally and marketing seems to be a chore rather than something we want to do.
Ace Your Potential Client Calls – A Complete Guide to Client Call Success was created to guide you through the process of a successful client call. This guide is NOT going to teach you how to sell because the truth is – you don't have to know how to sell to have successful client calls. In fact, we recommend that you avoid using sales techniques and tactics on your potential client calls! Yes, seriously!
How Will This Guide Help Me Close More Calls?
If you struggle, even a tiny bit, with your potential client calls, this guide is going to help you immensely!
This guide will teach you:
How to setup the intake process both from the preparation and technical aspects
3 things to do BEFORE the potential client call to weed out the curious-but-not-serious
10 things to cover in every single potential client call to ensure your client's secret objections are soothed away
How to start the call so that you get them talking first and about the things that will help you the most later in the call
How to keep your potential client focused and on topic
How to deal with objections that may come up during the call
How to develop confidence and take control of the call
and so much more…
You're also going to receive:
Scripts to help you walk through the call easily and in a style that keeps you and the potential client at ease
Essentially, we want to ensure that you can take this product, consume it and see the results in your potential client calls immediately! We have covered every aspect of the call – from the technical to the mental – and we know that you will see an increase in the number of clients you close on a regular basis.