VA Giveaway!
Hello and thank you SO much for stopping in!
First and foremost, isn't it amazing what Pam Ivey and her incredible team pulled off with this giveaway?  It is such an amazing opportunity for YOU (and many others) to gain access to some really amazing products.  Now, onto the reason why you are here … To download our freebies!
The Five Mistakes Most Virtual Assistants Make…
and How to Fix Them!
The virtual assistance industry is quickly becoming one of the fastest growing industries on the planet. The reason? It's low cost and low barrier to entry.
However, this does end up opening up people to the possibility of making mistakes in their businesses.
Are you the type of person who:
Leaps without planning or looking first
Has always wanted to be your own boss but are unsure as to the starting point
Would love to do things right the first time
If so, download this audio and PowerPoint where we'll uncover:
The mistake around skill building
The mistake on niche marketing and choosing that elusive target market
The costly mistake VAs make around certification
The mistakes made around spending money on tools and web-related items
The mistake around poor planning
And more!
This PowerPoint and audio program will help you to either fix the mistakes you're currently making or avoid making them in the future!  When you register below to receive this PowerPoint and audio program, you'll also receive our other bonus too!
Marketing Tips for VAs E-book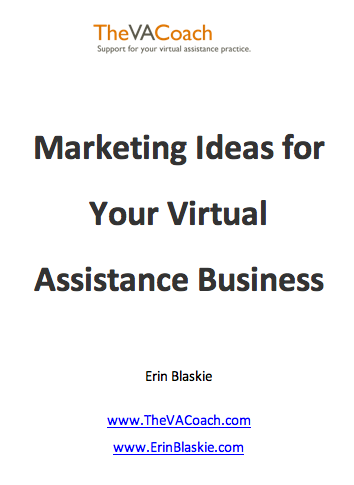 Creating your virtual assistance business is an exciting yet overwhelming venture. It can be very difficult to know what to do, when to do it and how to achieve the goals you need to achieve in order to make your business a success.
This guide was created to help new (and veteran!) virtual assistance business owners market their business and attract new clients. We are hoping that when you are finished reading this guide that you too are able to set out and increase the number of clients that are coming to your business on a consistent and regular basis.
The Marketing Tips for VAs e-book covers:
Going Social: Hootsuite, Facebook, Twitter, LinkedIn
How to use social media to market your business
Networking your business both online and off
Creating a website that sells and converts prospects
Building a list and creating a free giveaway
Enhancing the experience your potential clients have with your business
Speaking as a list builder and industry positioning tactic
and more…
This e-book will help you build more business affordably and effectively!
Yes!  I'd Love to Receive
Both of These Bonuses!
To grab your bonuses, simply enter your name and e-mail address below.