Portfolio: E-Book Design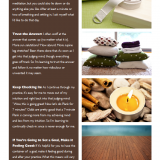 Another awesome project for Anna Guest-Jelley of CurvyYoga.com.
This one was an e-book design for a free guide she wanted to put on her site.  The guide is called, "The Curvy Yoga Guide to Creating a Home Studio."
I've included a few screenshots below but download the PDF, for free, on Anna's website here to check out the entire guide.
Let us know if you need an e-book designed!  We do everything from free guides to paid info-products to whitepapers.