Portfolio: New Website for MilagroRoots.com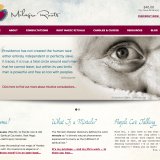 So excited about this launch…  Bri Saussy came to us awhile ago with the idea for a website built on WordPress.  We were hooked after our first phone call!  Bri has this amazing spirit and energy about her that we just HAD to be a part of this project.  We built the entire site on WordPress using a really amazing e-commerce driven theme.
Check out the site here - www.MilagroRoots.com.