Weebly Squeeze Page: KatiesCreativityCafe.com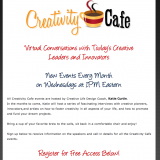 While not our most sophisticated design, this was our first time using Weebly since Weebly became a bit cooler to use (sorry Weebly!)  We set up a squeeze page (using MailChimp as the e-mail capture tool) and created a space where Katie can promote and share her Creativity Cafe.
We also created the logo that you see on the site as well as a branded Facebook cover photo for her page (and we also set up the page too!)
Click the link below to view the site in a larger format.