Portfolio: Flyer for Local Events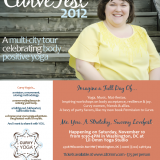 Another project for one of our awesome clients, Anna Guest-Jelley of CurvyYoga.com.
This time, we designed her a flyer that could be given to local yoga studios who were hosting stops on Anna's CurveFest 2012 tour.  The flyer template is one that can be easily changed up for each location and it ties in Anna, her brand and the message in one coherent piece of design.
Check it out!